Posted Sat 22nd Aug 2015
University of Lancaster

Big change from the old 'Atari' style logo to a more traditional and generic approach.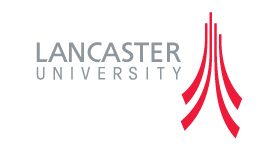 Unusual in that the shield is placed to the right of the text. The colour combination of red and a rather insipid gray, means the bottom half of the shield fades to the background. The placement of the red roses and book in the shield also creates an odd face, that once seen is hard to shake. (For more in that vein, have a look the great Faces in things twitter feed.)
The heavy angled serif on the 'L' typeface looks like a variant of Bookman and whilst it does the job of looking traditional I find it a bit crowded.
Tagged : North West , Shield , Grey , Red , Plateglass University , N8 Research Parnership , Serif , Crest
Read the Wikipedia entry Visit website