Project layout
index
test
Major Project Intro
I'm in the final year of my MA in Graphic Communication at the "University of Glamorgan":http://www.glam.ac.uk and have created a little section of my site to publish what I'm working on.
My project is to produce full colour illustrations of my interpretations of a selection of the teams in the 2007 Rugby World Cup.
I intend to use them as a showcase of the variety of styles that I enjoy producing, and as an opportunity to stretch my capabilities.
I'm also enjoying the discipline of publishing my ideas as I go along and having to refelect on them.
Project Mind Map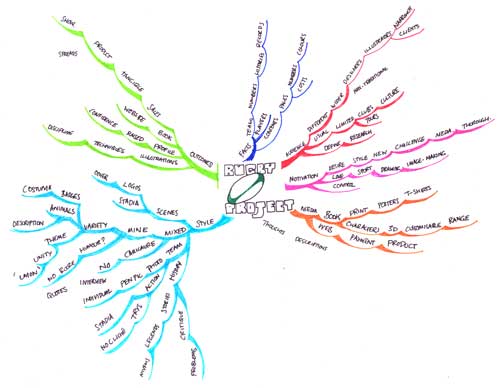 My mind map of the project, done a little while ago to get straight in my mind what I need to get done.
I enjoy the process of doing mind maps - it is a nice halfway house between drawing and writing.
Sketch of a Rugby Lion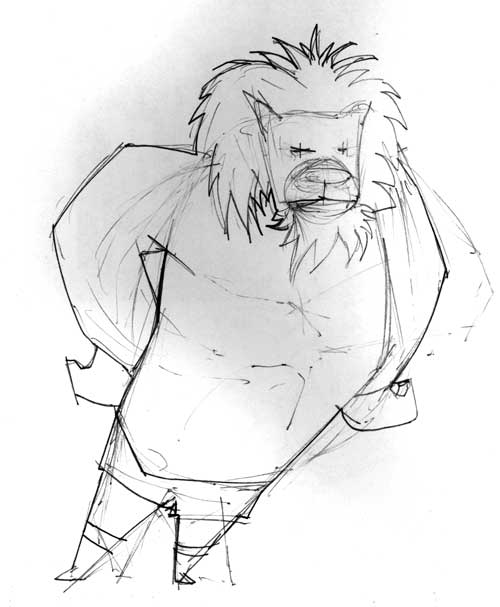 A bit cliched perhaps , but still necessary to get it out of my system.
Worth working up a version of this illustrator perhaps for the South Africa part of the Illustrations. Animals of Africa etc, even though the South Africa mascot/badge is the Springbok
Rugby Robots
Might not look much to do with rugby, but it's an idea I had of illustrating a rugby machine metaphor.
Could have legs. Could do lots of shapes and sizes
Rounded Rugby
Very different to much of the rugby stuff I've seen so far, but would need to go the whole hog and create a nice strange environment for the characters to live in.
Rounded Ball Carrier
A rounded ball carrier character.
Could do lots and lots of these in a variety of positions. Making a dense illustration out of one or two colors but on nice textured paper.
Early England v South Africa rough
Early godzilla and king kong themed rough. Looking to have an epic battle with the titans clashing.
Which has just made me think of another visual theme
England v South Africa in progress
The first foray into Illustrator with this project. I've done some roughs, which I think has given me enough to go on an start in illustrator. In the past I've tried to get all the visual research I needed together before going to the Mac too early.
I know that is good advice, but I've found I don't really know what kind of imagery I need to look for until I've started and got some ideas down.
Ironically, I think my visualisation skills are not great. I need to see things taking shape before I can react to them.
One key danger in this approach is being too wedded to staying on the Mac - As long as I can tear myself away when appropriate I should hopefully be ok.
Rubbery Rugby
Some sketches for rubbery rugby figures. Perhaps I could combine them on a textured surface, with the previous amorphous shapes.
Think that they might lend themselves to a pattern rich treatment, playing with the scale and groupings.
Currently have no idea which team might be appropriate for this treatment.
Self Portrait
New Zealand
An idea for the New Zealand panel, based on the ornate swirls of Maori art.
Some character sketches for Scotland
Some character sketches for the Scotland character. Over the past month or so, I've come to realise that the way forward that is exciting me the most is to create a character that is my own response to what I see as the defining rugby characteristics of the particular nation.
My thinking was getting bogged down in trying to give some kind of generic and balanced picture. I think this would lead to a bland and characterless illustration. The work needs to present not only my stylistic efforts, but i need to have the confidence to show my thoughts and opinions.
I'd be happy if the enthusiasm and buzz I get when an illustration is excitiung me comes through in the final piece.
The Sketches here are on the right lines. The first things that come into my mind when I think of Scotland. Though I have left out alcohol - which I will have to address if I'm being honest about my resoponses.
Cliched - but visually fun
This Inked idea for the Scottish character is a whole bundle of cliches, but I'm thinking that maybe I'd be daft to turn my nose up at a such a fun set of visuals to play with.
What's not to like about a tartan hat, a busy red beard, and a kilt?
Will try a scratchier version on some properly stretched paper
More ideas for Scottish themed character
Following on from the cliched ideas discussed previously, I've added a few more. I think that it is a good idea to work them out of one's system, otherwise they might stay in your head preventing other more original ideas emerging.
Alos I think there is something to be said for trying different media or styles with a cliched image to suggest other approaches.
Simple shapes repeated
Been a while since I've done any work on my project on the Mac. This has been a conscious decision to try to keep the focus on ideas and not execution. But tonight, whilst walking home in the snow, I decided that some things are best done by creating simple shapes and then arranging them.
The Mac is a great environment to do this , and so I've begun with the image you see here.
Variations and repetitions
Possibly a new avenue to explore with the very graphic, almost diagrammatic interpretation of the the figures.
Thinking about an "ISOtype":http://www.fulltable.com/iso/index.htm style with the emphasis on repeating patterns and siple transformations to basic figures.
Thinking about next steps
I feel like I've been sketching and coming up with little bits of ideas for a while now, but haven't settled on styles, characters of treatments. Pretty big decisions that need resolving sharpish so that I can get cracking.
One idea to get the character based illustrations going is to provide them with some kind of biography, to help me flesh out how they should look.
A friend helped with a quick word association for some of the main rugby nations.
He came up with New Zealand = Passion South Africa = Brutal Scotland = Unloved Australia = Ignored France = Flair Ireland = Headless Wales = Critical
I think I need to get some more of these. Maybe ask the rugby research people at the University.
Thus far, my ideas are - for NZ, a borg style cube drawn with lots of Maori style swirls. An early version of the cube accompanies this text.
A Scottish character that bundles up all the cliches about Scotland that I can think of in one image. As per the previous "sketches":http://www.mearso.com/rugby/more-ideas-for-scottish-themed-character
Mercury
A little illustration of Mercury, the Roman god of trade as well as being a messenger god. Mercury is the Roman version of Hermes.
The England juggernaut
England have always been a juggernaut of a team in my mind. At their best awe-inspiringly efficient and impossible to stop. Not pretty to look at but impressive nonetheless.
Even though their current team seems to be struggling, the rumbling nature of their play seems to be what they are famous for.
And I like that. If all the nations played the same way it'd be very dull. So I expect to do more industrial diggeresque drawings
A likeness or not?
I can't make up my mind whether this looks like "Andy Farrell":http://en.wikipedia.org/wiki/Andrew_Farrell or not.
My excuse is that he looked like that when I drew him, druring the England v Italy game in Feb 2007.
I think I would need to bulk him up a bit, because the real thing looks bigger than I've drawn him.
How did THAT happen?
What to do when you've done a drawing and then realised that it might just be a little too close to another person's distinctive styel for comfort.
That is the question for me now that I've done this drawing, which dismayed me when I looked at it. In itself I liked it. I liked the way of drawing - a mostly continuous line - but after it was done I realised that perhaps people might say ut looks too much like a certain "Jon Burgerman":http://www.jonburgerman.com/index.php/Work
Perhaps I should keep ploughing on with the continous line until I come out the other side with my own style
Clearing the decks
After my tutorial last week, I'm clearer in my mind what I'm aiming to produce for the final show.
I've moved further away from the book idea and am convinced that I need to work on 6 or so characters. Gareth and John like the variety of styles that I work and think that'll work pretty well.
Settling on one character per team, and to help me with this process, I think that a name and bio for each one will help me get a handle on what characteristics I want to draw.
Anxious to get one done and mostly finished, wary of spendng too much time in the ideas and non delivering phase. I can always work back to the ideas phase if need be.
Character Idea
This is an early idea, which makes me smile when I say the name, which is a good start. The idea was to create a bio of a character to help me get an idea of the character and then the features that I need to draw.
Th process of creating a bio began with the name, which then obviously led on to the drawing you see.
I like the possibilities this gives me, and the similarilty to bagpipes.
Typical Fans
"you should do 'a typical supporter' for each country" - my uncharitable response was "all the same - one eye, big mouths"
To illustrate my point here one is.
Apparently the English one would wear a football shirt and leave early and the Welsh one would be sad and look '70s'
Variations on a theme
Some variations on a cube theme. Trying out various treatments with the magic of photoshop. The simple hard lines of the cube can look quite nice when a texture is included. For me, themost successful one is the bottom left which is the least filteres, and instead a scan of some genuine charcoal texture.
Jocktopus Developed.
A more devloped version of the Jocktopus character. Enjoying working out the compositional details. Looking to introduce the gigantic sea creature and goodzilla feel that I originally planned for the England versus South Africa illustration.
Think this character suits the treatment better.
Robot Rugby
This sketch develops an idea of a character suggested by a conversation about developing characters. Developing a bio helps define what characteristics need to be turned into visuals.
So I've created a mad scientist theme, though this particular mad scientist appears to bear a remsemblance to a Pharoah!
Colour and style choices
The colour and style choices are harder than I first though they would be. I've traced my original sketch and now have developed some colours and textures.
I've made the Jocktopus a blue that is similar to the "saltire.":http://en.wikipedia.org/wiki/Saint_Andrew
I need to to make the tentacles easier to see, by giving them some depth. Could do this with some line work or as I've started doing by using some gradient overlays. Some underlighting on the face to make it more monster-like would be a nice Idea.
Also considering what to do with the background. It's quite different from the original sketch, but the skyline idea gives me a more distinctive shape. Will do a Paris skyline to fit the France world cup theme.
Developing a composition
Been a little stuck whilst working through this illustration on the Mac, so decided to go back to the more traditional method of working out a composition.
Drawing is still quicker and more responsive. I also find the direct nature of drawing and erasing is better for testing ideas quickly.
I think doing this composition on the the Mac would have lead to me getting too concerned with detail.
Blueprint
One of my ideas for the England themed idea of the site is a rugby machine, and to that end I've chosen to do things on a technical drawing/blueprint background, but still keep things pretty loose.
England's Rugby Robots
Work in progress on my idea of England as a formidible (yet fun!) army of rugby playing robots. Perhaps a little unfair on the talented players, but I'm the boss - and I couldn't miss the chance to draw some robots. It really took me back to afternoons in fornt of the TV drawing spaceships and robots when I was a child.
Mekonesque
This effort at the scheming genius character is perhaps a little too Mekon like, though any character with a big head and small face tends to Mekonicity.
Must be the obvious physiology suggested by a giant brain and an atrophied body. In this case though, it's a rugby brain. Can you see? There are laces.
Early idea for France Illustration
This is a very early idea for the illustration for the France rugby character/team. It has very obvious echos of "A.M.Cassandre":http://en.wikipedia.org/wiki/Adolphe_Muron_Cassandre , but hopefully I can develop away from that.
However, I've always liked the textured gradients that you see in his and his contemporaries work, and now is my chance to give it a try.
I'm a firm believer that by trying to emulate a particular style you learn a lot about it, and provided that imitation is not your aim, you can develop your own take on it.
Experimenting with approaches for the Blockheads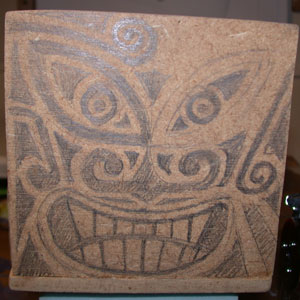 After much procrastination, I finally decided to get started on my blockheads for the NZ illustrations. I couldn't decide what materials to use, but accquired some foam block which got me started.
I painted a block and then drew straight on with my design.
I also tried a subtle indentation, but don't think it's strong enough.
After that I tried a deeper approach, but the block is not suited to carving.
So then I got some MDF and cobbled together a rough block onto which I drew various faces. This was a little more fruitful, as I started to enjoy the drawing of the faces.
Also thinking that the face idea maybe needs to be expanded to a full figure to make the rugby connection more explicit.
More detailed Maori Style drawing
Worked up drawing directly onto the block. Enjoying drawing directly on to the block, with no Ctrl Z to help me out.
THinking that I buy enough blocks I can make some mistakes and be left with enough that I'm happy with.
As usual came out of my tutorial with a head full of ideas, which I now need to turn into action.
Design on Lino
The design for my lino print, drawn directly on the lino. Enjoyed drawing it on the lino and making most of it up as I was going along.
Also handy to have the scan so I can do a quick preview of what the finished print should look like. It's tricky to get your head round the reversing of the colours
Lino print
Finally, with the expertise and time of my good lady wife Dianne, I have produced a lino print for the NZ illustration that I've been working on for some time.
This is a photo from my basic point and shoot camera, but it gives some idea. I'm happy with the 3 good prints that I have from the lino, with the option to do more in future.
I'll be really happy once the image is safe and sound in a nice frame.
Blocks in Progress
The blocks have now had some ink applied to them. The irregular surface of the blocks leads to some nice effects, but I still need to work in to some more areas to select the random bits that work for me.
Once they've had the varnish applied it should make them a little richer and they will hoepfully work as a unit.
French Rugby Personality
What is the Frech rugby style? Is it the skullduggery and rolling maul of the cast of extras from Papillon? Or is it the artists imaginativly throwing the ball around with gusto to score a miracle try?
I don't know and I suspect neither do they.
To that end I've drawn a split personality
The Fly Half Factory?
Early sketch for a factory themed idea for the Wales fly half factory.
This has been a recurring theme in Welsh rugby for many years, though the production line has taken on some kind of mythical quality over the years.
The perfect 10 is still rather an obsession in Wales.
The Fly Half Factory?
A flat factory.
Early test for the coloring and style of my fly half factory idea.
I'm liking the muted tones so far, expect of course the red of the jersey's. Perhaps I can suggest dark goings on in the murky business of creating the ultimate fly half.
Section of the Factory
Section of the factory idea drawn on layout paper. Hence the very clear lines. I've drawn up a factory production line, and resolving to keep it simple.
I am realising I have a tendencey to get in too close too early, resulting in one area being overworked and others not considered and working well together.
Hopefully, now I'm looking out for it I can avoid it.
Section of the Factory
Final Rugby Robots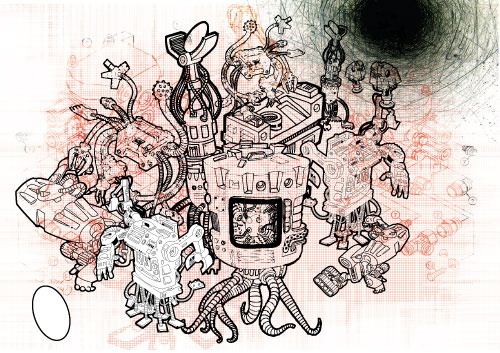 I didn't see much to dissuade me from that opinion during the world cup, apart from the addition of tremendous team spirit.
I've tried to capture some of the strange variety you see in a rugby team by my robots, with all sorts of shapes, sizes and characters represented.
[flickr id="6283278060" thumbnail="medium_640" overlay="true" size="large" group="" align="none"]
[flickr id="6282760461" thumbnail="medium" overlay="true" size="small" group="" align="center"]
The Final Factory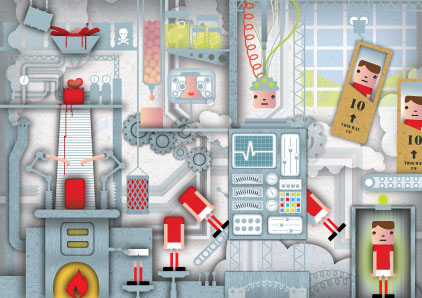 I hope my enjoyment whilst doing this one comes across. I enjoyed adding the textures and developing things like the controls and machines. Perhaps my love of the factory machines I watch on the Discovery channel is coming out.
There is a "bigger version":http://www.flickr.com/photos/mearso/1798138083/ over at Flickr