Tagged: | Posted: Thu, Apr 08, 2004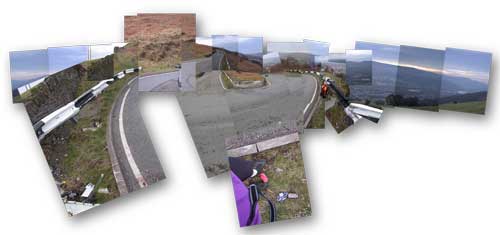 The hard ridden for view from Aberdare. The climb was about 3km up, and the hardest bit was at the start. By the time I'd got to where I took the pics I was pretty tired, but what always surprises me about riding is how quickly you forget the pain.
No doubt the pros would sprint up that climb with barely a bead of sweat.
The descent down the other side was great fun, reaching 57 kmh (about 35mph). Even for someone as nervous as me on the descent.
The Numbers: Ride time : 1:44:09 Average HR 165 Max 188 Kcals burned 1875
Max speed 57 km/h Trip Distance 38.79km Average Speed 22.88 km/h